Torque Singapore Magazine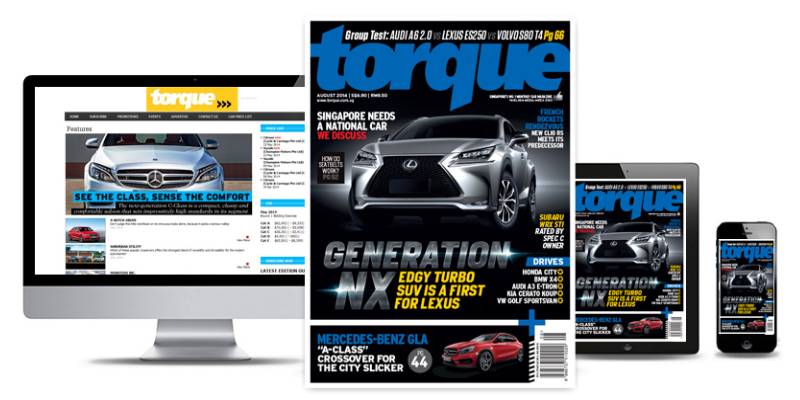 Category:
Toqrue is Singapore's Premier Home-Grown Car Magazine. Since its inception in 1990, readers have trusted Torque as the authority when it comes to cars and the car culture. From test driving the latest cars to appreciating all things automotive, Torque is the trusted opinion leader. As the automotive authority, Torque features the latest motoring news, informative articles and unbiased test-drive reports in a visually stunning package of top-quality photography and sleek design. Backed by a team of seasoned and passionate motoring journalists, Torque is the staple of car enthusiasts. Torque is the authority on all things automotive in Singapore. • The latest and greatest cars, expertly reviewed and stylishly presented
• The coolest features, each one designed to entertain and educate
• The most insightful interviews, columns and commentaries
• The industry's most informative group tests and twin tests
• The snazziest car modifications and accessories
• The best in boys' toys and lifestyle pursuits
• The most useful buying guide in the business
---------------------------------------------
Complete Terms & Conditions - If you are a new digital subscriber, your digital subscription will commence immediately. An account will be created for you, based on the email address that you have provided and you will receive an email with instructions on how to access your digital magazine. If you already have an existing subscription to the same title, your new subscription period will automatically commence when your current digital subscription expires. - You agree and consent to SPH Magazines and its related corporations (collectively, "SPH Magazines Group"), SPH Magazine Group's business partners and their respective authorised service providers and agents collecting, using and disclosing your personal data for the purposes of processing your subscription application, providing you with the products and services you have requested and sending you marketing information on products, services, promotions and/or events offered or marketed by the SPH Magazines Group and/or any third parties. These purposes are set out in the SPH Privacy Policy which can be found at
http://sph.com.sg/legal/SPH_privacy.html
and which may be amended from time to time. - SPH Magazines may, by notice in writing posted on its website, assign all of its rights and interests relating to or in connection with your subscription to a related corporation of SPH Magazines (the "Transferee") without your consent. - For enquiries on your digital subscription, please email
[email protected]
.
---